CLUB HISTORY
[SOUTH WEST BUDGERIGAR CLUB (MANDURAH) INC]

The Club was formed in March 1991. The inaugural meeting was held in Trevor Doig's carport. Trevor Doig and Russell McMahon had been mulling over the idea of starting a Budgerigar Club in the Mandurah/Murray district for several months.
With our membership spread over a wide area and the majority of interested persons being retirees it was decided to meet on a Sunday afternoon at the Falcon Community Hall.
FALCON COMMUNITY HALL
The inaugural committee persons were:
President - Trevor Doig; Secretary - Jan McMahon and Treasurer - Russell McMahon.
The new Club was to be called:
`The Mandurah and Murray Districts Budgerigar Improvement Society'.
Our first meeting/exhibition on 21/4/91 was a huge disappointment. The inclement weather and the lack of promised support did not help our cause.
After some consideration by our members we decided, in September 1991, to change our name to:
`The South West Budgerigar Club'.
At that time [1991] the Perth metropolitan area had a number of Budgerigar Clubs:
Mandurah and Rockingham Budgerigar Society;
West Coast Budgerigar Club of W A;
Budgerigar Improvement Society;
Southern River Budgerigar Society;
Perth Budgerigar Club;
Budgerigar Society of Western Australia and
Western Australian Budgerigar Council (Inc).
The Club's first trophy winners [17/11/91] were Denny and Hilda Wildblood.
Judge: Leigh Peterson.
Even at the end of the first year there was still uncertainty as to whether the Club could survive. Thanks to the help and support of the dedicated members at that time, the Club continued to grow and our survival was guaranteed.
Since March 1993 the President's Perpetual Trophy [pictured below], donated by the late Len Johnston, has been awarded to a member, at the AGM, for their outstanding contribution to the Club during the previous year. The following members have been recipients of this award: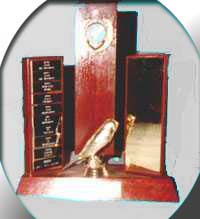 | | | | | | |
| --- | --- | --- | --- | --- | --- |
| 1992 | Jan McMAHON | 1993 | Jan McMAHON | 1994 | Trevor DOIG |
| 1995 | Bill & Ilene FISHER | 1996 | Jan McMAHON | 1997 | Mary Anne BENNETT |
| 1998 | Norrie FIELDER | 1999 | Russell McMAHON | 2000 | Shane SCOTT |
| 2001 | Jan WILLIAMS | 2002 | Cec GEARING | 2003 | Colin CHAPMAN |
| 2004 | John YOUNG | 2005 | Len LARSEN | 2006 | John and Val FRANCIS |
| 2007 | Grant HOUSE | 2008 | Fran McLAUGHLAN | 2009 | Brenda GEARING |
| 2010 | John McLAUGHLAN | 2011 | Gina HOUSE | 2012 | Cec GEARING |
| 2013 | Ron MINN | 2014 | Stephen RAMSDEN | 2015 | Laurie PARK |
| 2016 | Cliff SMALL | 2017 | Sandra MINN/John McLAUGHLAN | 2018 | Brad DEMARTI |
| 2019 | Chelsey KOOPS | | | | |
Our first Club Derby was held on 20th June 1993 and the winners were Denny and Hilda Wildblood.
Judges: Pat and Willie Schoeman.
In October 1993 we officially became an Incorporated Club. With the Constitution came our current name:
`SOUTH WEST BUDGERIGAR CLUB (MANDURAH) INC'.
By this time the Mandurah and Rockingham Budgerigar Society had changed it's name to Southside Budgerigar Society (Inc) so our Club was free to include `Mandurah' in it's name.
In our early years we conducted several shows/displays at the Mandurah Forum Shopping Centre. This gave our Club exposure and also raised much needed funds. In March 1996 we were invited to put on a display at the Comet Bay Fair organised by a local ratepayers association. We shared a marquee with a cake stall!! Conditions were rather cramped but we coped until a willy willy came right through the marquee and upended several of the cages from the staging. All the birds survived with the exception of one escapee which was last seen heading for the nearby bushland.
For the first 5 years we held our meetings, competing with the birds, in the main hall at Falcon. The Lesser Hall became available in 1996 and we were able to conduct our meetings in the peace and quiet of the lesser hall.
Still anxious to increase our membership and club funds we took a display to the Murray Mandurah Markets at the end of 1996.
DISPLAY AT MURRAY MANDURAH MARKETS
To encourage our Novice Exhibitors trophies were awarded for the most points scored in our Club year – the recipients of this award were:
| | |
| --- | --- |
| Clinton SCOTT 93/94 | Bill MARCHANT 94/95 |
Since 1995 the Club has donated a trophy each year to the Exhibitor who scores the most points during our Club year:
| | | | |
| --- | --- | --- | --- |
| 95/96 | Gary ARMSTRONG | 96/97 | DODGEY BROS |
| 97/98 | Wayne RETZLAFF | 98/99 | DODGEY BROS |
| 99/00 | DODGEY BROS | 00/01 | DODGEY BROS |
| 01/02 | C & B GEARING | 02/03 | C & B GEARING |
| 03/04 | John YOUNG | 04/05 | C & B GEARING |
| 05/06 | John YOUNG | 06/07 | G & G HOUSE |
| 07/08 | J & F McLAUGHLAN | 08/09 | G & G HOUSE |
| 09/10 | John YOUNG | 10/11 | C & B GEARING |
The untimely death of one of our esteemed members, Ken King in 1998, saw the Club face a new challenge when we were asked to conduct an auction of Kens' birds. With the assistance of our members the birds had to be caught, catalogued and caged including some pairs in breeding cabinets with youngsters. The auction was a great success with 20 bidders attending and several thousand dollars raised for Ken's widow. As a `thank you' to the Club we received a commission on the sales.
Thanks to Sharon House we were delighted to welcome Ron Hunt, an accredited Australian National Budgerigar Council Judge, to our Club in April 1999. Ron judged the birds in front of the members and then gave a brief talk, followed by a question and answer session. Members were very appreciative of the opportunity to meet Ron and found him to be one of the most informative and interesting visitors to our Club.
February 2000 was another milestone for our Club when we affiliated with the Western Australian Budgerigar Council (Inc).
Judges were allocated by the Western Australian Budgerigar Council (Inc) for our monthly Table Shows and it also entitled the Club to representation at Council meetings, however, we did not have voting rights.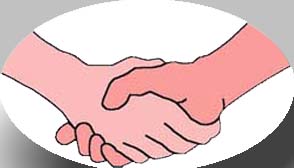 Currently [2004] there are only four Budgerigar Clubs in Western Australia:
Western Australian Budgerigar Council (Inc) - Controlling Body in Western Australia
South West Budgerigar Club (Mandurah) Inc;
Metropolitan Budgerigar Club of WA (Inc)
Budgerigar Society of Western Australia and
The Rare Budgerigar Club of WA Inc.
2004 has seen major changes in Western Australia with the Western Australian Budgerigar Council (Inc) reverting back to an advisory/controlling body in Western Australia and the South West Budgerigar Club (Mandurah) Inc and the Metropolitan Budgerigar Club of WA (Inc) becoming affiliates of the WABC (Inc). The affiliation entitles the clubs to judges, rings, magazines and a say in the running of the hobby in Western Australia.
2002 saw four of our foundation members nominated for Life Membership:
Trevor Doig, Russell McMahon and Denny & Hilda Wildblood.
Over the years many of our members have had birds selected to represent Western Australia at the Australian National Budgerigar Show:
During 2001 and 2002 the Club experienced a very encouraging increase in membership and also the number of birds being benched at our monthly shows. The Club, in order to cater for our members, some of whom have between a 200 and 300 kilometre round journey to attend meetings, decided to meet at 11.30am This allows more time for judging and enables members to arrive home before dark.
Under the guidance of President, Cec Gearing, the Club has taken on a renewed enthusiasm. After Cec's election in 2001 he presented members with a package that included many new innovations. With the exception of the Derby, all the events listed below, have been suggestions put forward by Cec and after consultation with the membership they have been enthusiastically implemented.
Late in 2005 the Club moved from the Falcon Community Hall [listed for refurbishment] to the Coodanup Community Centre. The new venue is proving to be a resounding success. The hall is bigger, lighter, brighter and has fantastic kitchen facilities. The general consensus of opinion is that we make this our `home'.